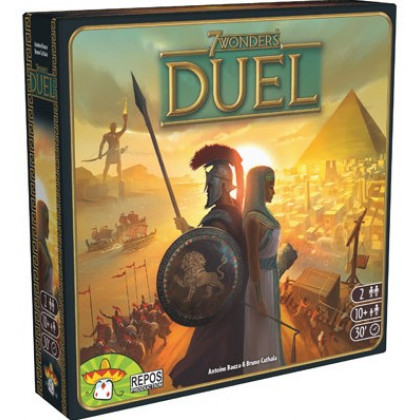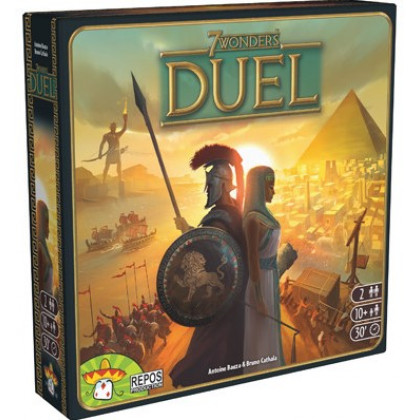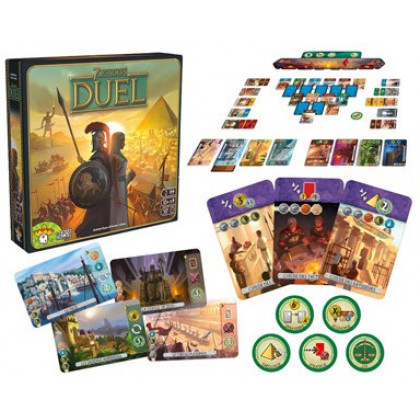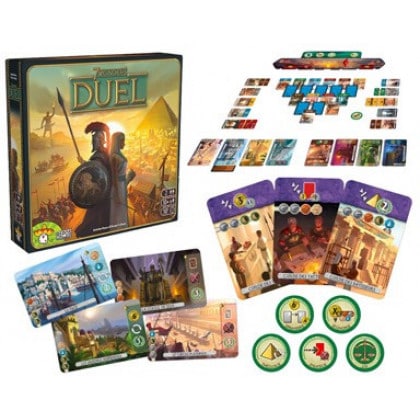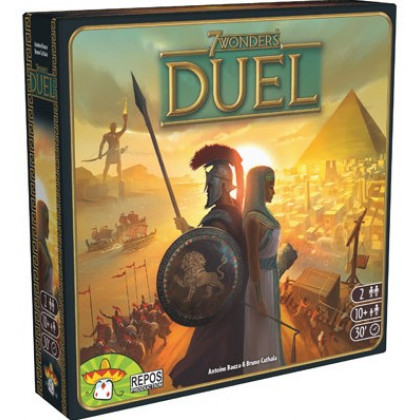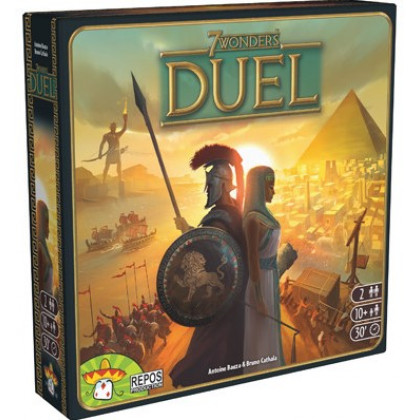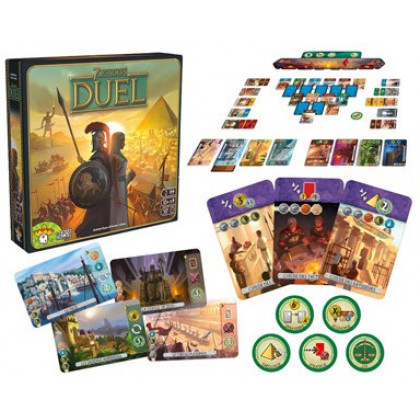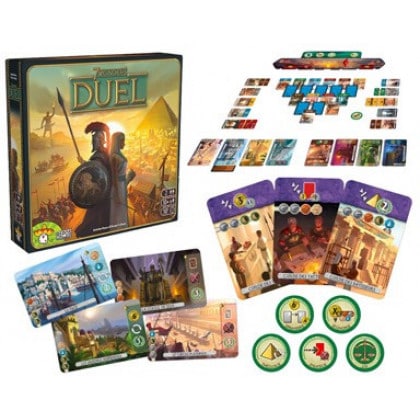 Op werkdagen voor 16:00 besteld is morgen in huis.
Productinformatie "7 Wonders Duel - English"
In many ways 7 Wonders: Duel resembles its parent game 7 Wonders as over three ages players acquire cards that provide resources or advance their military or scientific development in order to develop a civilization and complete wonders.

What's different about 7 Wonders: Duel is that, as the title suggests, the game is solely for two players, with the players not drafting card simultaneously from hands of cards, but from a display of face-down and face-up cards arranged at the start of a round. A player can take a card only if it's not covered by any others, so timing comes into play as well as bonus moves that allow you to take a second card immediately. As in the original game, each card that you acquire can be built, discarded for coins, or used to construct a wonder.

Each player starts with four wonder cards, and the construction of a wonder provides its owner with a special ability. Only seven wonders can be built, though, so one player will end up short.

Players can purchase resources at any time from the bank, or they can gain cards during the game that provide them with resources for future building; as you acquire resources, the cost for those particular resources increases for your opponent, representing your dominance in this area.

A player can win 7 Wonders: Duel in one of three ways. Each time that you acquire a military card, you advance the military marker toward your opponent's capital, giving you a bonus at certain positions. If you reach the opponent's capital, you win the game immediately. Similarly, if you acquire any six of seven different scientific symbols, you achieve scientific dominance and win immediately. If neither of these situations occurs, then the player with the most points at the end of the game wins.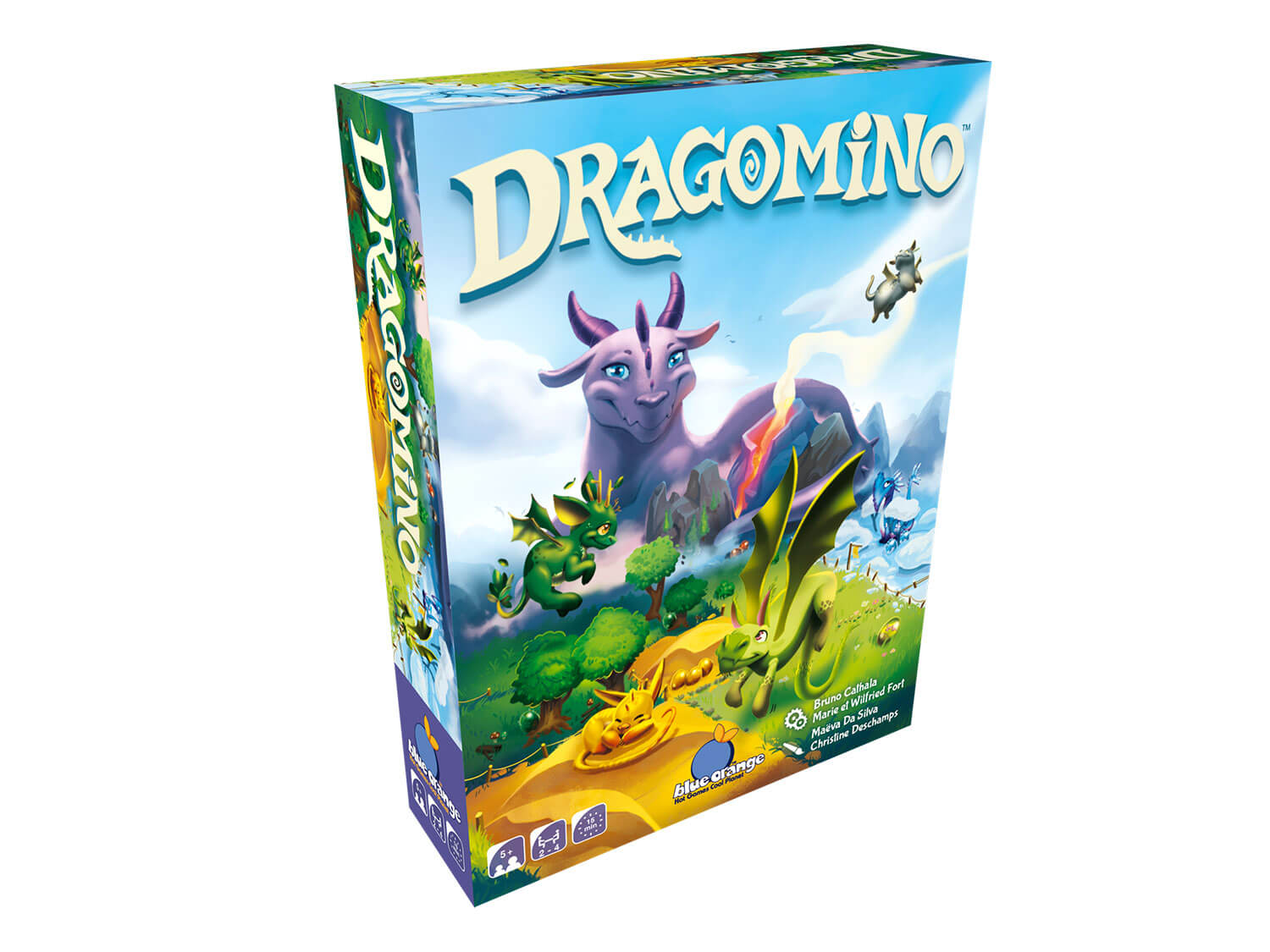 Levering op:
Dragomino - Bordspel
Mijn eerste KingdominoJe grote moment is aangekomen! Je bent tot drakenrijder benoemd en krijgt de kans om op een mysterieus eiland op zoek te gaan naar deze wezens. Maar je bent niet de enige drakenrijder in deze landstreken.Wie zal de meeste babydraken ontdekken?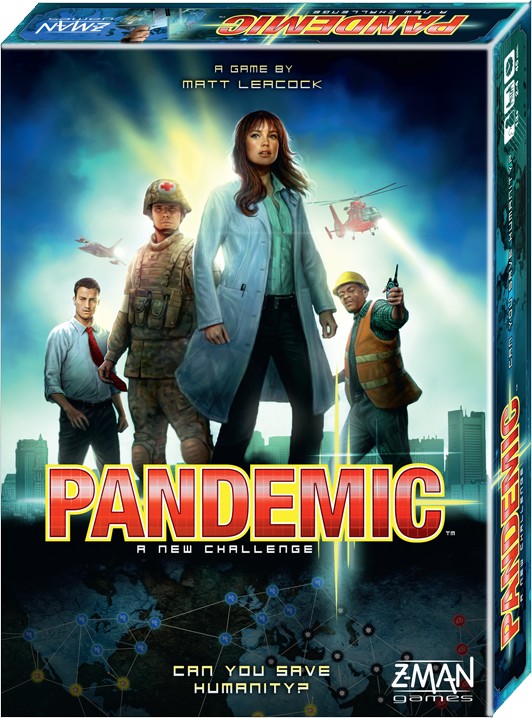 Levering op:
Pandemic 2nd edition (English) - basisspel
Vernieuwde uitgave van het spannende bordspel Pandemic! Deze uitgave biedt twee nieuwe rollen om te spelen en tevens nieuw artwork. Spelers zijn leden van een eliteteam dat ten strijde trekt tegen vier bijzonder dodelijke ziektes. Je team reist over de hele wereld om de vloedgolf van infecties in te dammen en om kennis en hulpbronnen op te doen om medicijnen te ontwikkelen. Spelers moeten samenwerken en daarbij hun individuele specialiteiten gebruiken om de ziektes uit te roeien voordat ze de wereld overspoelen. De klok tikt door terwijl uitbraken en epidemieën de verspreiding van de ziektes versnellen. Lukt het je om op tijd de geneesmiddelen te ontdekken? Het lot van de hele mensheid ligt in jouw handen! Inhoud: - speelbord, - 115 kaarten, - 6 houten markers,  - 7 pionnen en nog veel meer!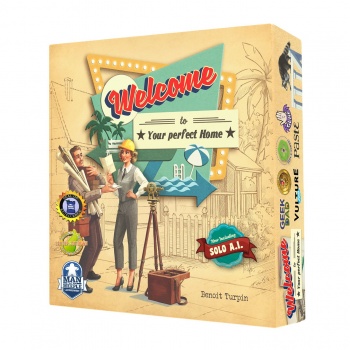 Niet meer beschikbaar
Welcome To... 2nd Edition - EN
A roll and write without dice! Players will become architects in the American 50's as they use combinations of cards and actions to construct American dream real estate!