Root de Role Playing game
Genoten van het geweldige bordspel van Root. Nu is er ook de RPG. Dompel je onder in deze wereld en bestel nu!
Tijdelijk niet in voorraad
Root RPG The Roleplaying Game Core Book
This Root: The Roleplaying Game core rulebook features: 6" x 9" Hardcover Book Full Color Interior With Artwork By Kyle Ferrin 6 Playbooks + Map Creation System + GM Materials Free PDF via DriveThruRPG War has returned to the Woodland! The Marquise de Cat led her armies to victory over many of the clearings, but the Eyrie Dynasties rise again to oppose her. Meanwhile, the mice, rabbits, and foxes of the Woodland do not sit idly by - the Woodland Alliance, a homegrown rebellion, has emerged, promising to free the Woodland from any oppressors. In the midst of this war, you and your friends - vagabonds all - travel between the clearings, taking on jobs no one else can or will do. You choose whom you serve, if anyone... but everyone knows you may tip the balance of the War. Root: The Roleplaying Game is the officially-licensed tabletop RPG based on the award-winning Root: A Game of Woodland Might and Right board game by Leder Games. In Root: The RPG, you play vagabonds, individual outlaws whose adventures and alliances define the Woodland forever. Here's what you'll find inside this book: Nine unique playbooks, each built to help you create a vagabond whose exploits will echo in the Woodland for generations to come. Easy-to-follow rules for all manner of fantasy adventure, including roguish feats, reputation and travel mechanics, and more. Innovative mechanics for managing equipment, weapons, and combat that make your choices matter both tactically and narratively. Detailed instructions for running Root: The RPG - crafting combats, managing factions, and more - alongside a full clearing, Gelilah's Grove. Root: The RPG is a fantasy adventure for three to six players of woodland creatures fighting for money, justice, and freedom from powers far greater than them. Fame and glory await!
€ 47,95  Prijs was:

€ 49,00 

-
Levering op:
Root The Roleplaying Games Travelers & Outsiders
New faces haunt the Woodland's Spirits! As the War rages on, new factions take interest in the Woodland's resources. The Riverfolk Company sends trade boats up and down the rivers; the Lizard Cult makes a new push for converts; the Grand Duchy digs tunnels to seize new territory; and the Corvid Conspiracy toils to claim ill-begotten gains from the foolish. Who are these new factions? And what do they have in store for the Woodland? Travelers & Outsiders is a supplement for Root: The Roleplaying Game, the officially licensed tabletop RPG based on the award-winning Root: A Game of Woodland Might and Right board game by Leder Games - that expands the core game to include the first 4 expansion factions!
Levering op:
Root - The Roleplaying Game - Accessory Pack
This Root: The RPG GM accessory pack includes a trifold GM screen - featuring tools, tables, and information for running the game - alongside two custom notepads for tracking your campaign! GM Screen: a trifold Gamemaster (GM) screen, each fold roughly 8"x8" for a total length of 24". It contains GM tools, reference tables, and other information to help make running the game a cinch, while featuring awesome vagabond art by Kyle Ferrin! Woodland & Clearing Notepads: Two distinct 8"x8" notepads with pull-off sheets to help you track your campaign! The clearing pad comes with 50 individual double-sided sheets, each used to track a different clearing, while the Woodland pad comes with 30 double-sided sheets, each used to track the whole of the Woodland.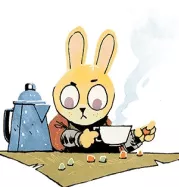 Root the Role Playing game is gebaseerd op het bordspel Root.
In een wereld met veel bossen, ruines en monsters, ligt het gevaar om iedere boom te wachten. Gelukkig zijn er ook volken die gewoon rustig hun leven willen leiden in gezellig dorpje met winkels, een herberg en een smit.
Andere willen daar weer misbruik van maken door de nederzetting in hun macht te krijgen en uit of af te persen.
Dan heb je ook nog degene die daar tussen in zitten, zoals jij zelf, de verstotenen der maatschappij. De vagebonden, de zwervers, levend aan de randen van de beschavingen.
Ben jij de badger arbiter, cat scoundrel of wolf ranger en hoe overleefd jullie groep in deze harde wereld.
Het spel mechaniek van Root the RPG is gebaseerd op het Powerd by the Apocalypse systeem, dit systeem wordt bij vele andere role playing games ook gebruikt. Het kenmerkt zicht door het weinige dobbelen. Alleen als het echt niet anders kan worden er dobbelstenen gebruikt. Geschikt voor spelers met iets meer ervaring.
Root the RPG kopen
Wat heb je nodig om te beginnen?
Het Core book is verreweg het belangrijkste om te gaan starten. Daarnaast heb je ook wat 6 zijdige dobbelstenen nodig.
Heb je een paar keer gespeeld en is het goed bevallen. Kijk dan verder naar een van de GM screen of naar verhalen boeken om je avonturen in de wereld van Root in goede banen te leiden.