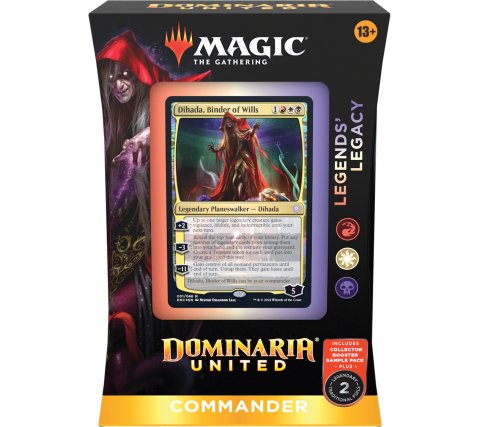 Magic: Dominaria United Commander Deck - Legends' Legacy
Tijdelijk niet in voorraad
Verwachte levering op: .
Productinformatie "Magic: Dominaria United Commander Deck - Legends' Legacy"
Dominaria United is releasing two preconstructed Commander decks to accompany the main booster set featuring two classic Magic characters.
Jared Carthalion and Dihada, Binder of Wills are the two face cards for the Dominaria United precons. Jared Carthalion is the general for the Painbow deck. Dihada leads the deck named Legends; Legacy. This Commander release is smaller than the five precons from Streets of New Capenna.
Contains:
100-card ready-to-play Dominaria United Commander Deck
2-card Collector Booster Sample Pack
Deck includes 2 traditional foils + 98 nonfoil cards
1 foil-etched Display Commander
10 double-sided tokens + life tracker and deck box
Introduces 10 MTG cards not found in the DMU main set