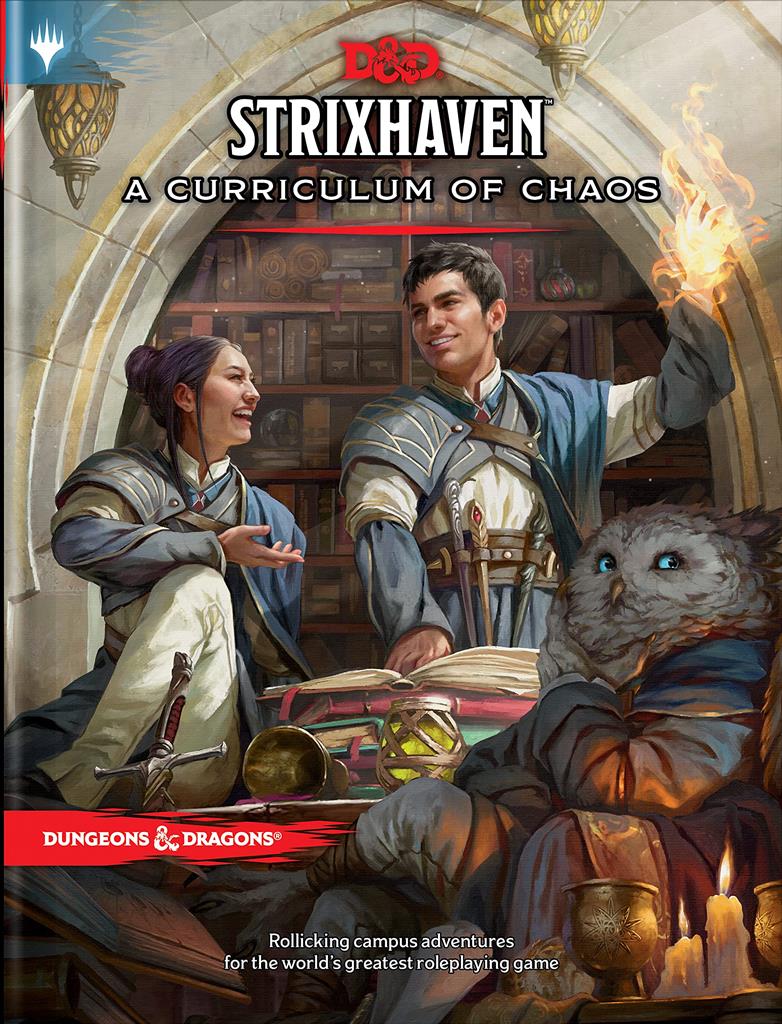 D&D: Strixhaven: A Curriculum of Chaos
Op werkdagen voor 16:00 besteld is morgen in huis.
Productinformatie "D&D: Strixhaven: A Curriculum of Chaos"
Rollicking campus adventures for the world's greatest roleplaying game.
The greatest minds in the multiverse meet at Strixhaven University. Professors convey fantastic secrets to eager students, and life on campus is frenetic. But danger lurks even here. Campus hijinks mix with mishaps and sinister plots, and it's up to you to save the day.
Strixhaven: A Curriculum of Chaos introduces the fantastical setting of Strixhaven University, drawn from the multiverse of Magic: The Gathering, and provides rules for creating characters who are students in one of its five colleges. Characters can explore the setting over the course of four adventures, which can be played together or on their own. Each adventure describes an academic year filled with scholarly pursuits, campus shenanigans, exciting friendships, hidden dangers, and perhaps even romance.
This book includes a poster map that shows Strixhaven's campuses on one side and location maps on the other.
Through the book's multiyear campaign, players begin as first-year students who study, socialize, and adventure their way to graduation.
Experience D&D in new ways through the academic challenges, extracurricular activities and jobs, and relationships explored on campus.
Includes four adventures that can be played as stand-alones or woven together to create one campaign taking players from level 1 to level 10.
Players can create characters using a new race presented in the book, an owlin, one of the owlfolk who study at the university.
Adds new player character options including feats and backgrounds.
Includes new spells and magic items that help your character feel connected to the college they choose to join.
Encounter over forty magical, mysterious creatures and NPCs in the bestiary.
Strixhaven can easily be dropped into any D&D world or campaign with the provided rules for adventuring as a student of magic.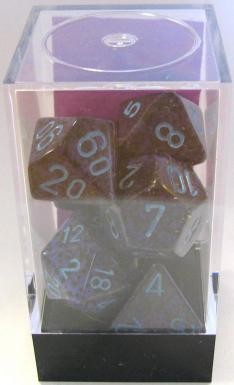 Levering op:
Speckled Cobalt polydice set
Deze set van 7 dobbelstenen bestaat uit een d4, d6, d8, d10, d12, d100 (10 zijdig). Deze set is geschikt voor tal van RPG's, zoals Dungeons and Dragons, Pathfinder er vele andere.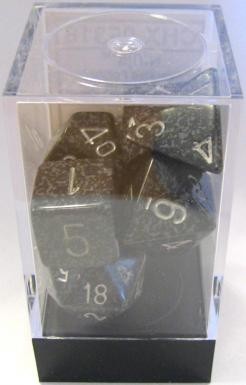 Levering op:
Speckled Ninja polydice set
Deze set van 7 dobbelstenen bestaat uit een d4, d6, d8, d10, d12, d100 (10 zijdig). Deze set is geschikt voor tal van RPG's, zoals Dungeons and Dragons, Pathfinder er vele andere.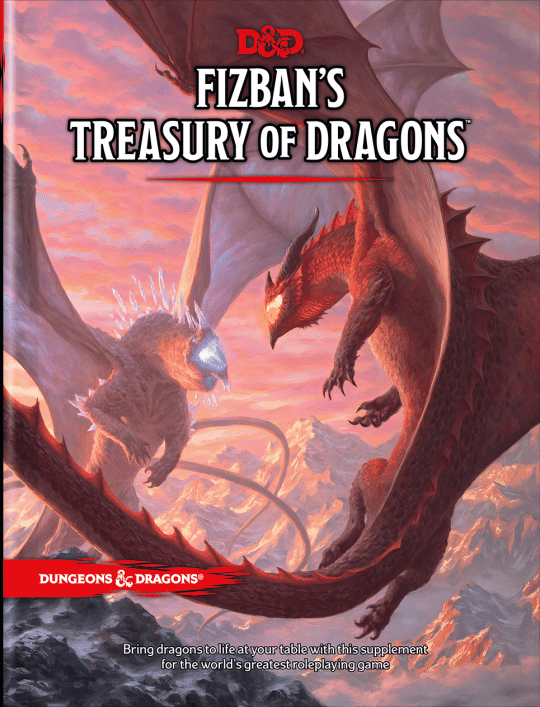 Levering op:
Dungeons & Dragons: Fizban's Treasury of Dragons
Discover how dragons embody magic across the worlds of D&D and how you can bring them to life at your table in this quintessential reference guide for the world's greatest roleplaying game. Meet Fizban the Fabulous: doddering archmage, unlikely hero of the War of the Lance, divine avatar of a dragon-god—and your guide to the mysteries of dragonkind in the worlds of Dungeons & Dragons. What is the difference between a red dragon and a gold dragon? What is dragonsight? How does the magic that suffuses dragons impact the world around them? Here is your comprehensive guide to dragons, filled with the tips and tools Dungeon Masters and players need for their encounters with these dangerous magical creatures. Dragonslayers and dragon scholars alike will appreciate the new dragon-themed options for players eager to harness the power of dragon magic and create unique and memorable draconic characters. Dungeon Masters will discover a rich hoard of new tools and information for designing dragon-themed encounters, adventures, and campaigns. Discover a host of new dragons and other creatures. Learn about the lairs and hoards of each type of dragon, and how hoards focus the magic that suffuses dragons and connects them to the myriad worlds of the Material Plane. Discover everything there is to know about the most iconic monsters of D&D with help from Fizban, your expert advisor on dragonkind! Introduces gem dragons to fifth edition! Reveals the story of the First World and the role Bahamut and Tiamat played in its creation and destruction. Adds new player character options, including unique draconic ancestries for dragonborn, dragon-themed subclasses for monks and rangers, and new feat and spell options. Offers everything a Dungeon Master needs to craft adventures inspired by dragons across the worlds of D&D, with new dragon lair maps and details on 20 different kinds of dragons. Presents a complete dragon bestiary and introduces a variety of new dragons and dragon-related creatures, including aspects of the dragon gods, dragon minions, and more.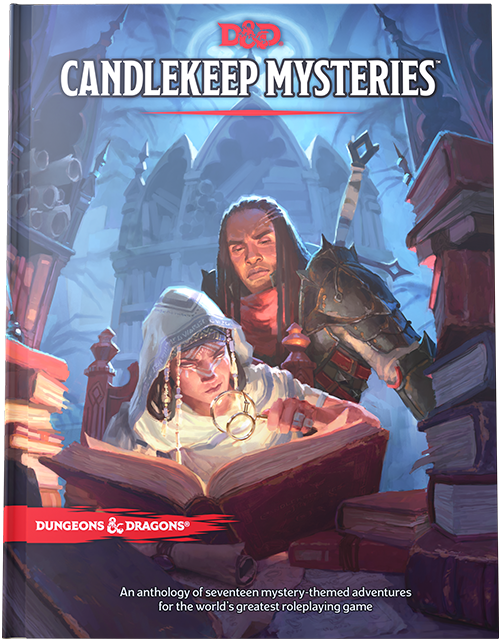 Levering op:
Dungeons & Dragons: Candlekeep Mysteries
Candlekeep attracts scholars like a flame attracts moths. Historians, sages, and others who crave knowledge flock to this library fortress to peruse its vast collection of books, scribbled into which are the answers to the mysteries that bedevil them. Many of these books contain their own mysteries—each one a doorway to adventure. Dare you cross that threshold? Candlekeep Mysteries is a collection of seventeen short, stand-alone D&D adventures designed for characters of levels 1-16. Each adventure begins with the discovery of a book, and each book is the key to a door behind which danger and glory await. These adventures can be run as one-shot games, plugged into an existing Forgotten Realms campaign, or adapted for other campaign settings. This book also includes a poster map of the library fortress and detailed descriptions of Candlekeep and its inhabitants.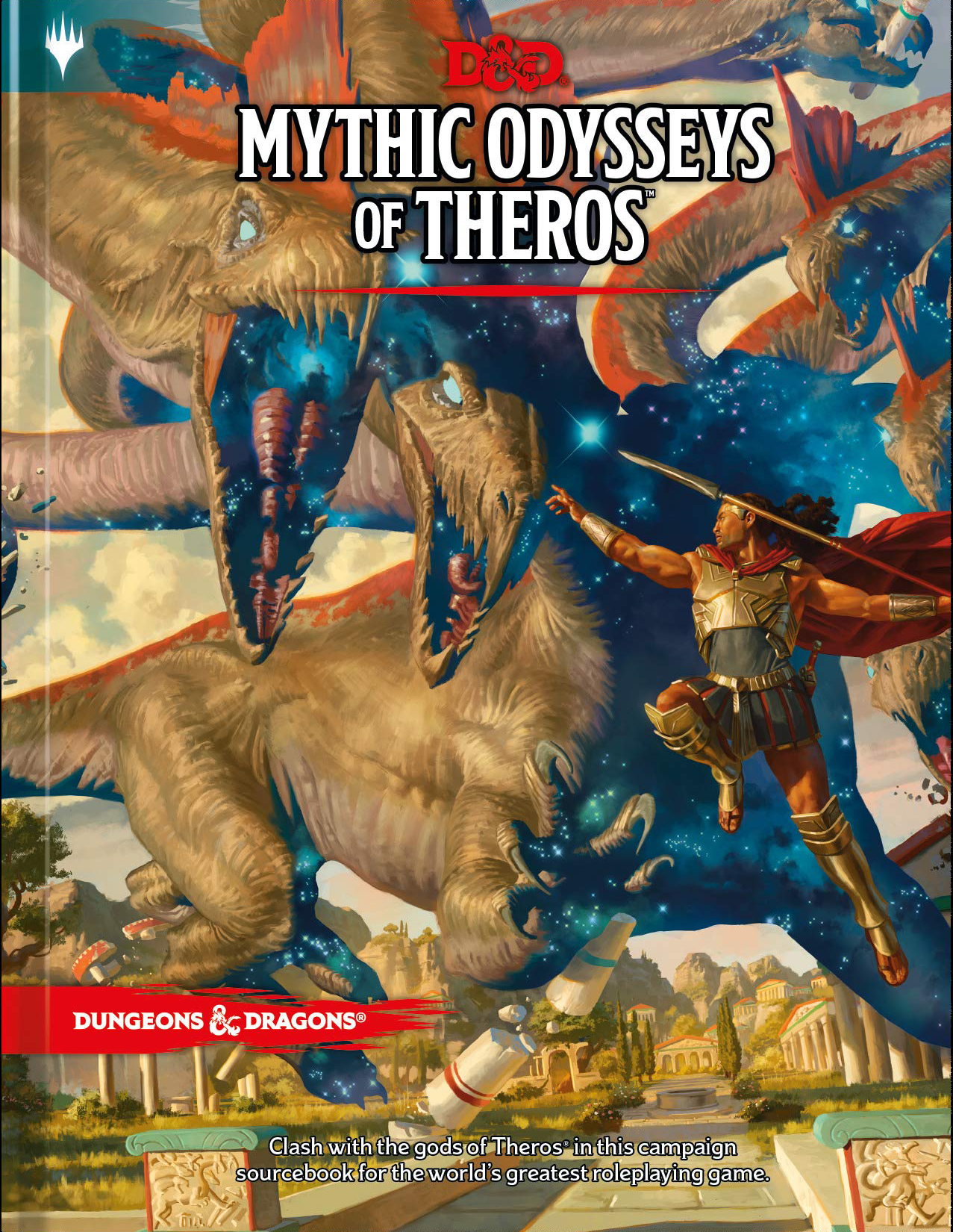 Levering op:
Dungeons & Dragons - Mythic Odysseys of Theros
Clash with the gods of Theros in this campaign sourcebook for the world's greatest roleplaying game. The world's most popular roleplaying game meets the world's most popular trading card game in this campaign sourcebook, detailing the Magic: The Gathering world of Theros for use in Dungeons & Dragons. Legends walk the lands of Theros, a realm shaped by deities and the deeds of heroes. From the temples of omen-speaking oracles to the five realms of the Underworld, the champions of the gods vie for immortal favor and a place among the world's living myths. Choose a supernatural gift that sets you on the path of destiny, align yourself with one of Theros's fifteen gods, then carve a tale of odysseys and ordeals across the domains of mortals, gods, and the dead. What legends will you challenge—mighty heroes, inevitable prophecies, or titans imprisoned by the gods? Where will destiny and immortal schemes lead you? And what tales will you leave behind, celebrated in the pantheon of myths and writ among the eternal stars? Receive a supernatural gift from the gods, a set of special traits that mark your character for greatness. Select one of the new races for your character—such mythic peoples as the leonin or a satyr. New subclasses include the Bard's College of Eloquence, masters of oratory; and the Paladin's Oath of Glory, an affirmation of destiny laid out for you by divine providence. Encounter mythic monsters, creatures whose power and renown are such that their names are truly living myths. More than simply legendary, these creatures have abilities that will create a challenge fit for the gods. Wield god-weapons, signature items of the gods that allow your character to stand apart from other heroes. These can be a gift from your deity or perhaps you boldly stole it from them in a bid for ultimate power.