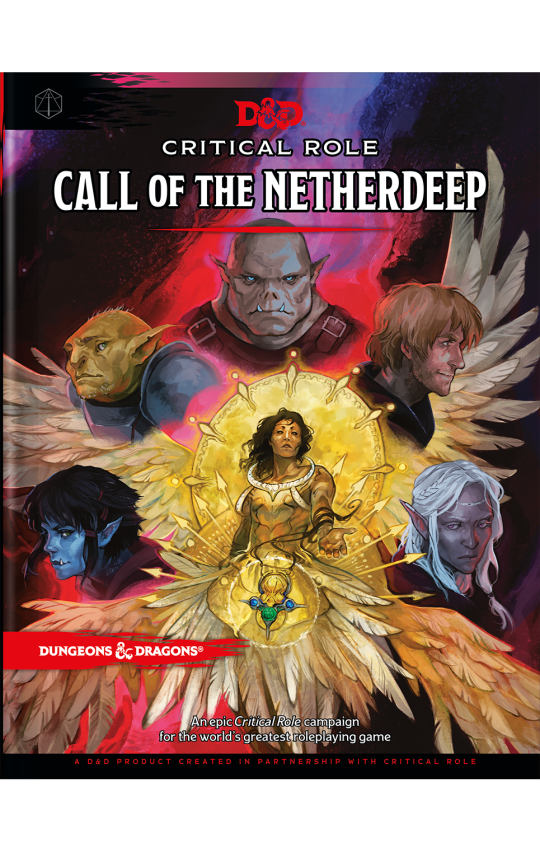 D&D Critcal Role: Call of the Netherdeep
€ 47,95 
%
Prijs was:

€ 49,00 

-

(2.14% bespaard)
Op werkdagen voor 16:00 besteld is morgen in huis.
Productinformatie "D&D Critcal Role: Call of the Netherdeep"
Het DnD boek Call of the Netherdeep is het eerste avontuur in de wereld van Exandria. Dit adventure book is bedoeld voor spelers en Dungeon Masters die bekend zijn in deze wereld. In een avontuur die zich deels onderwater afspeeld, ontvouwd zich een verhaal waar de spelers als avonturiers te maken krijgen met een andere groep NPC (non player characters) avonturiers.
Spelers zijn dus niet de enige sterren in dit verhaal er zal ook rekening gehouden moeten worden met andere helden, die misschien nog hoger worden aangeschreven in de historische terugblikken.
Hoe gaan jullie om met deze concurrenten die ook de wereld over reizen op zoek naar goud, faam en glorie?. Een groep die ook steeds beter wordt in het gene dat ze doen, net als jullie. Hoe gaan jullie met ze om. Hebben zij dezelfde roep gehoord? Een roeping van iets of iemand die verloren is gegaan in de eeuwen, vast zit in tijd. Hulp nodig heeft om er te komen.
Gaat de andere groep ook helpen en is samen werken de beste optie of zijn ze iets kwaads van sinds.
Het Dungeon and Dragons boek Call of the Netherdeep is een adventure boek. Geschikt voor maximaal 5 spelers die 3 ™ 12 level characters spelen en een Dungeon Master.
Het artwork in dit boek is geweldig.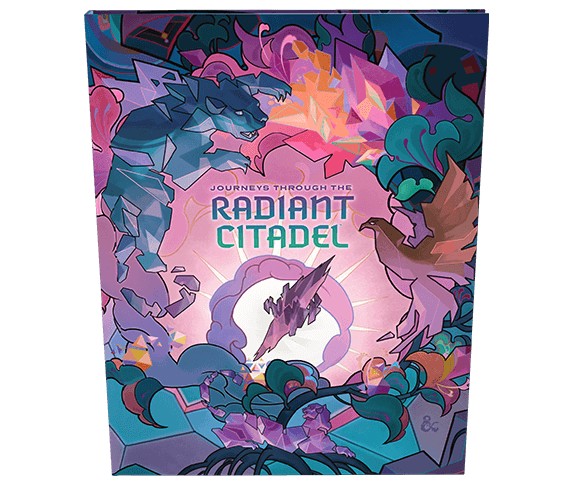 Levering op:
Dungeons & Dragons: Journey Through The Radiant Citadel Alt-Cover
Journeys through the Radiant Citadels is een DnD met 13 korte stand-alone avonturen. Deze avonturen kunnen gespeeld worden door Dungeons and Dragons characters van level 1/14. Deze verhalen spelen zich af in en rond de stad "the Radiant Citadels" een stad die zweeft in de deep ethereal plane. In is een "veilige haven" voor een ieder die verdwaalt is in de deep ethereal plane. Van of deze plek kun je niet alleen maar de material plane maar ook een van de 15 verschillende bekende beschavingen in de huidige plane. Dit boek is geschreven door een groep dnd schrijvers van kleur en hebben de opdracht gekregen om elementen uit hun eigen jeugd te verwerken in de avonturen en beschavingen. In dit opzicht is het misschien wel het meest persoonlijke DnD adventure book wat is uitgegeven - Dertien nieuwe op zichzelf staande avonturen van level 1 t/m 14, elk met zijn eigen beschaving. - Introduceert de Radiant Citadel, een nieuwe locatie op het Ethereal Plane die avonturiers verbindt met rijk gedetailleerde en duidelijke hoeken van het D&D-multiversum - Elk avontuur kan worden aan en in gepast op bestaande een D&D-campagne of in en eigen wereld - Elf nieuwe D&D-monsters De Alt-Cover is een speciale uitgave van Journeys through the Radiant Citadel en gelimiteerd. Dit boek staat boordevol met nieuw materiaal waar iedere Dungeon Master van zal smullen en spelers van zullen genieten.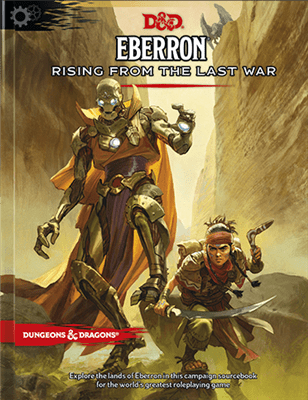 Levering op:
Dungeons & Dragons: Eberron: Rising from the Last War
Explore the lands of Eberron in this campaign sourcebook for the world's greatest roleplaying game. This book provides everything players and Dungeon Masters need to play Dungeons & Dragons in Eberron—a war-torn world filled with magic-fueled technology, airships and lightning trains, where noir-inspired mystery meets swashbuckling adventure. Will Eberron enter a prosperous new age or will the shadow of war descend once again? Dive straight into your pulp adventures with easy-to-use locations, complete with maps of floating castles, skyscrapers, and more. Explore Sharn, a city of skyscrapers, airships, and noirish intrigue and a crossroads for the world's war-ravaged peoples. Include a campaign for characters venturing into the Mournland, a mist-cloaked, corpse-littered land twisted by magic. Meld magic and invention to craft objects of wonder as an artificer—the first official class to be released for fifth edition D&D since the Player's Handbook. Flesh out your characters with a new D&D game element called a group patron—a background for your whole party. Explore 16 new race/subrace options including dragonmarks, which magically transform certain members of the races in the Player's Handbook. Confront horrific monsters born from the world's devastating wars.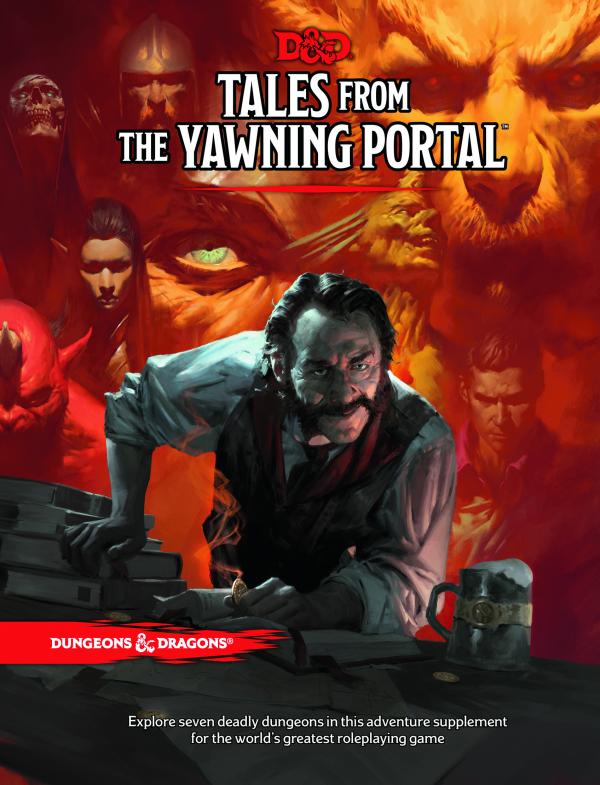 Levering op:
Dungeons & Dragons - Tales From the Yawning Portal
When the shadows grow long in Waterdeep and the fireplace in the taproom of the Yawning Portal dims to a deep crimson glow, adventurers from across the Forgotten Realms, and even from other worlds, spin tales and spread rumors of dark dungeons and lost treasures. Some of the yarns overheard by Durnan, the barkeep of the Yawning Portal, are inspired by places and events in far-flung lands from across the D&D multiverse, and these tales have been collected into a single volume. Within this tome are seven of the most compelling dungeons from the 40+ year history of Dungeons & Dragons. Some are classics that have hosted an untold number of adventurers, while others are some of the most popular adventures ever printed. The seeds of these stories now rest in your hands. D&D's most storied dungeons are now part of your modern repertoire of adventures. Enjoy, and remember to keep a few spare character sheets handy. For use with the fifth edition Player's Handbook, Monster Manual, and Dungeon Master's Guide, this book provides fans with adventures, magic items and deadly monsters, all of which have been updated to the fifth edition rules. Explore seven deadly dungeons in this adventure supplement for the world's greatest roleplaying game.
€ 44,95  Prijs was:

€ 49,00 

-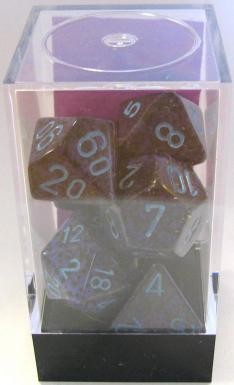 Levering op:
Speckled Cobalt polydice set
Deze set van 7 dobbelstenen bestaat uit een d4, d6, d8, d10, d12, d100 (10 zijdig). Deze set is geschikt voor tal van RPG's, zoals Dungeons and Dragons, Pathfinder er vele andere.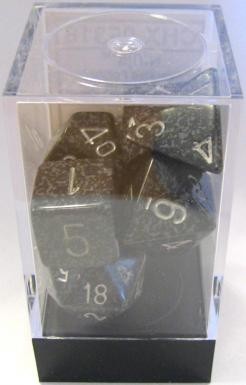 Levering op:
Speckled Ninja polydice set
Deze set van 7 dobbelstenen bestaat uit een d4, d6, d8, d10, d12, d100 (10 zijdig). Deze set is geschikt voor tal van RPG's, zoals Dungeons and Dragons, Pathfinder er vele andere.