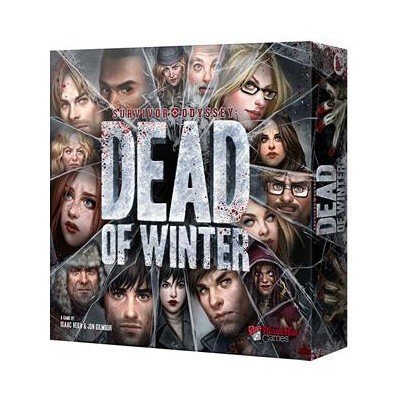 Dit product is "tijdelijk" niet meer leverbaar
Productinformatie "Dead of Winter"
Dead of Winter is een coole tabletop game, waarin spelers proberen de strenge winter te overleven in een postapocalyptische wereld. De overlevenden zullen een manier moeten vinden om samen te werken, om bedreigingen van buitenaf te weerstaan en voedsel te vinden.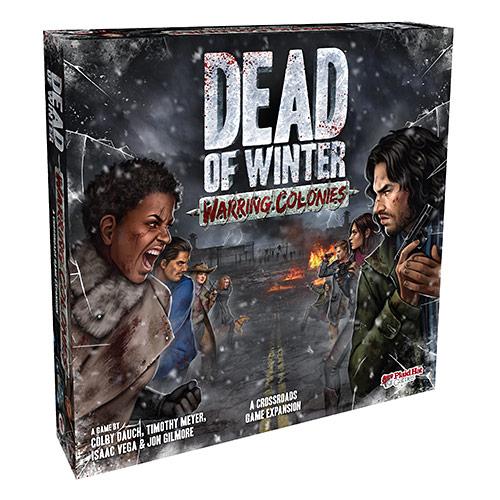 Levering op:
Dead Of Winter Warring Colonies
The Dead of Winter: Warring Colonies expansion includes 15 new survivors, 50 new crossroad cards, 43 new items, and 11 new crisis cards, many of which can be used with either Dead of Winter base set. However, to play either the warring colonies variant or the lone wolf module, you need both Dead of Winter: A Crossroads Game and Dead of Winter: The Long Night. In the warring colonies variant, which is for 4-11 players, unique main objectives set two colonies against each other as they battle for territory with a new fighting system that includes tactics cards, bullet tokens, and 12-sided combat dice. New and terrible joint-colony crisis cards force cooperation and coercion every round. New simultaneous turn mechanisms and a sand timer keep things moving at a brisk pace. With the lone wolf module, which can be used with the warring colonies variant or on its own, one player is on a team all by themselves, hiding out in their lone wolf den and carrying out missions that effect both teams.
€ 34,95  Prijs was:

€ 44,00 

-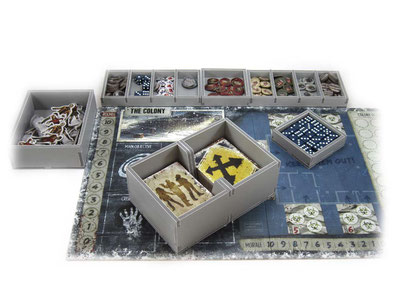 Levering op:
Dead of Winter & The Long Night Insert
Note: insert designed for games with external box dimensions of 29.5 x 29.5 x 7.1 cm This insert is designed to be compatible with Dead of Winter©. The same insert is also compatible with The Long Night©. The design provides both efficient storage and improved game play. Many of the trays can be utilised during the game, and they greatly aid set-up and clear-away times. There is space for all cards to be sleeved. Insert features: One survivor standee tray Two zombie storage trays Two card storage trays Two token trays One dice tray One zombie token tray When the insert is used with the original Dead of Winter© game the survivor tray has four legs" added, one to each corner, as shown in the image on the right. There is also a cross filler piece 1 cm deep which is placed under the zombie trays, as shown below. The location cards are then placed on top of the zombie trays as a lid, as in the main image at the top of the page. When the insert is used for The Long Night©, the thick location cards sit underneath (or on top should you wish) of the zombie and survivor trays. Note: when used for The Long Night© the zombie and other standees need to have the majority of their bases removed. This product consists of a flat-pack of 4 Evacore sheets. The trays require assembly, which is quick and fun, using ordinary PVA glue. Detailed instructions are included in the package."
€ 15,00  Prijs was:

€ 18,00 

-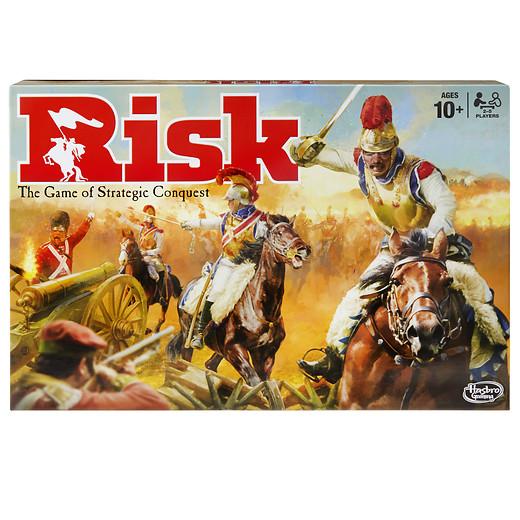 Levering op:
Risk standaard
Nieuwe verpakking, nieuw spelbord en vernieuwde miniatuurfiguurtjes. Beheers je legers, verdedig en verover gebieden. Bereik jij je militaire doelen eerder dan je tegenstanders? Speel 3 verschillende spellen. Het ultieme doel is om de wereld te veroveren. Een spannender spel bestaat niet. In deze variant zitten ook weer de missiekaarten zodat iedereen zijn eigen doel heeft.