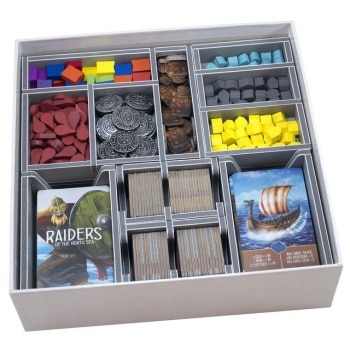 Raiders of the North Sea Insert
Op werkdagen voor 16:00 besteld is morgen in huis.
Productinformatie "Raiders of the North Sea Insert"
Insert designed for the standard retail game with external box dimensions of 23.1 x 23.1 x 7.0 cm, and expansion box with dimensions 23.1 x 23.1 x 4.5 cm. Insert compatible with Raiders of the North Sea®, including the Hall of Heroes® and Fields of Fame® expansions. The design provides both efficient storage and improved game play. Many of the trays can be utilised during the game, and they greatly aid set-up and clear-away times. The rules and boards act as a lid on top of the trays. There is a card tray for the townsfolk cards and one for the other card types. All cards can be sleeved with quality sleeves. The other two trays are for the offering, reputation and quest tiles. There are two trays for the resources & jarl tokens and game dice. Then two large trays for the workers, mead, score markers, wounds, coins, and provision tokens. There are three trays for this box also, one small tray for the multiplier tiles, and two trays for the remaining townsfolk cards. The encounter boards from the Fields of Fame® expansion stand vertically in the middle. Due to the height of the boards there is a small amount of lid lift when this expansion box is packed of 1 - 2 mm. When clearing the game away and packing the box, the game rules are placed on top of the trays. On top of these place the main game board, followed by the cloth bag. The string and top of the bag should be tucked down next to the board as shown. This fills the box to the top and allows for vertical storage of both boxes. This product consists of a flat-pack of 4 Evacore sheets. The trays require assembly, which is quick and fun, using ordinary PVA glue. Detailed instructions are included in the package.