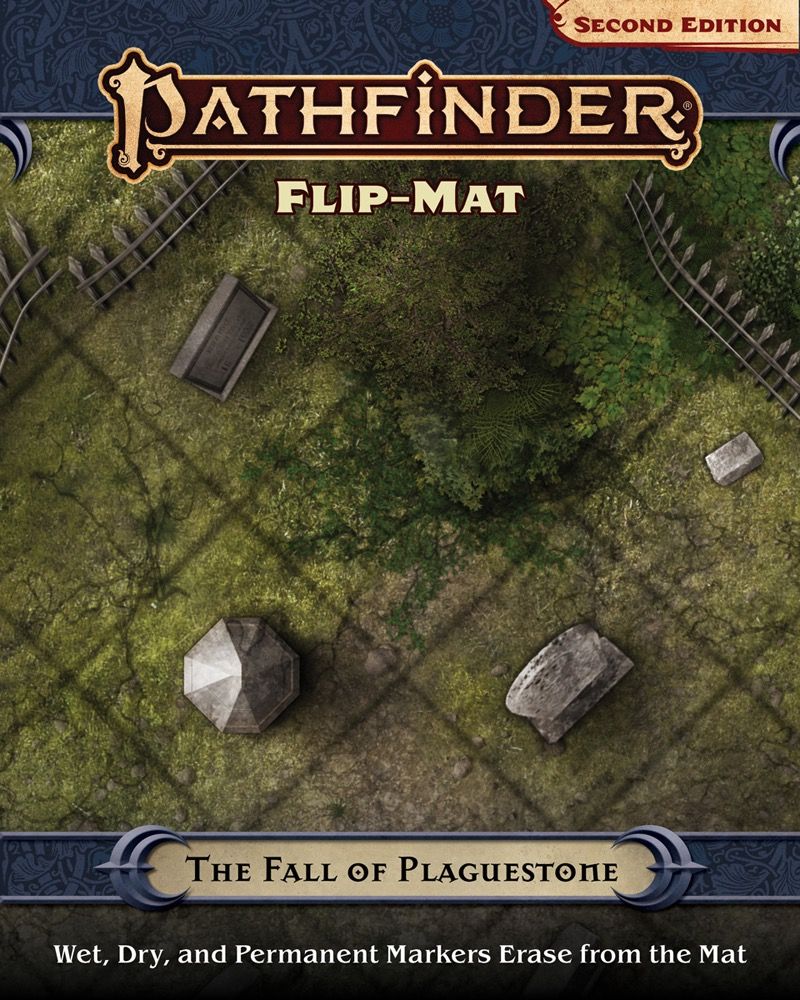 Pathfinder Flip-Mat: The Fall of Plaguestone
Tijdelijk niet in voorraad
Verwachte levering op: .
Productinformatie "Pathfinder Flip-Mat: The Fall of Plaguestone"
Bring your Fall of Plaguestone adventures to life on your tabletop with this double-sided full-color Flip-Mat featuring key encounter locations from the premiere Pathfinder Second Edition adventure on either side! Both sides depict the enormous hillside lair of an evil alchemist, complete with quarters for her servants, numerous laboratories, pens to hold test subjects, and a cavernous lair! Don't waste your time sketching when you could be playing. With Pathfinder Flip-Mat: The Fall of Plaguestone, you'll be ready to introduce the new Pathfinder in style!
Flip-Mat: The Fall of Plaguestone measures 24" x 30" unfolded, and 8" x 10" folded. A Flip-Mat's coated surface can handle any dry erase, wet erase, or even permanent marker. Usable by experienced GMs and novices alike, Pathfinder Flip-Mats fit perfectly into any Game Master's arsenal!
On tabletops across the world, the Flip-Mat Revolution is changing the way players run their fantasy roleplaying games! Why take the time to sketch out ugly scenery on a smudgy plastic mat when dynamic encounters and easy cleanup is just a Flip away?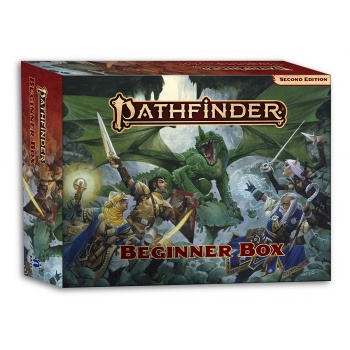 Levering op:
Pathfinder Beginner Box (P2) - EN
Take the first step into an amazing world of fantasy adventure! The Pathfinder Beginner Box contains everything you need to learn how to play the Pathfinder Roleplaying Game, including rules to create your own fantasy hero and tools to make your own amazing stories. Will you be a courageous fighter, charging headfirst into battle, or a sly rogue, moving quietly to strike at foes from the shadows? Maybe you will be a knowledgeable wizard, wielding incredible arcane spells or a wise and pious cleric, using the power of your deity to shape the world for the better. It is all up to you! Inside you will find a rich toolbox, filled with everything you need to get started, including rules for character generation, an introductory adventure, guidelines to build your own campaign, character sheets, a full-color map, character pawns, and dice. This deluxe box set is the ideal introduction to the Pathfinder Roleplaying Game, leading the way to a lifetime of adventure! The Pathfinder Beginner Box includes: An 80-page Hero's Handbook, including rules for character generation, a solo adventure, skills, spells, and equipment. A 96-page Game Master's Handbook, containing an introductory adventure, over 20 pages of monsters, rules for building your own adventure, and magic items. Four premade characters so you can jump right into the action and four blank character sheets if you want to make your own hero. Over 100 character and monster pawns to use on the full-color double-sided adventure map. Four game reference cards to help players remember their actions. A complete set of polyhedral dice, including a d20, d12, d10, d8, d6, and d4.