Levering op:
Catan Junior
A Catan adventure for fledgling swashbucklers.Explore the Seas! Catan: Junior™ introduces a modified playing style of the classic game giving younger players the opportunity to experience the world of Catan! Designed for players as young as 5 and is a perfect introduction to the Catan series of games for kids and families.Catan: Junior™ takes place on a ring of islands where 2 to 4 players build hideouts, and the mysterious Spooky Island, where the Ghost Captain lives. Each island generates a specific resource: wood, goats, rum or swords and players can acquire gold.Each player starts with two pirate hideouts, then builds ships in order to expand their network. The more hideouts you build, the more resources you may receive. You use your resources to build ships, hideouts or get help from Coco the Parrot. Just watch out for the dreaded Ghost Captain!Be the first player to control seven pirate hideouts and you win the game!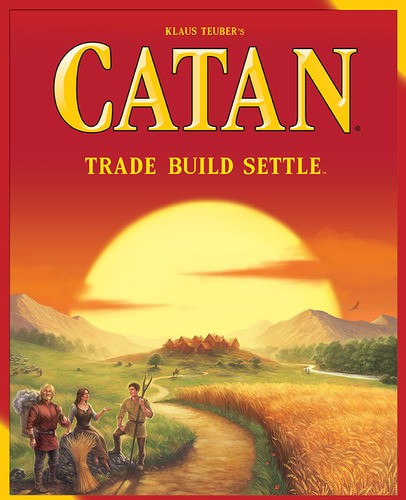 Levering op:
Settlers of Catan 5th Edition - English
In The Settlers of Catan, players try to be the dominant force on the island of Catan by building settlements, cities, and roads. On each turn dice are rolled to determine what resources the island produces. Players collect these resources (cards) - wood, grain, brick, sheep, or stone - to build up their civilizations to get to 10 victory points and win the game. Setup includes randomly placing large hexagonal tiles (each showing a resource or the desert) in a honeycomb shape and surrounding them with water tiles, some of which contain ports of exchange. Number disks, which will correspond to die rolls (two 6-sided dice are used), are placed on each resource tile. Each player is given two settlements (think, houses) and roads (sticks) which are, in turn, placed on intersections and borders of the resource tiles. Players collect a hand of resource cards based on which hex tiles their last-placed house is adjacent to. A robber pawn is placed on the desert tile. A turn consists of possibly playing a development card, rolling the dice, everyone (perhaps) collecting resource cards based on the roll and position of houses (or upgraded cities - think, hotels) unless a 7 is rolled, turning in resource cards (if possible and desired) for improvements, trading cards at a port, and trading resource cards with other players. If a 7 is rolled, the active player moves the robber to a new hex tile and steals resource cards from other players who have built structures adjacent to that tile. Points are accumulated by building settlements and cities, having the longest road and the largest army (from some of the development cards), and gathering certain development cards that simply award victory points. When a player has gathered 10 points (some of which may be held in secret), he announces his total and claims the win.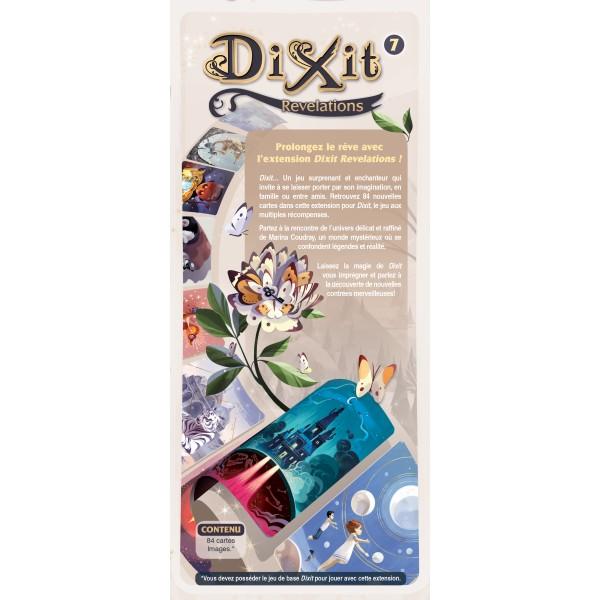 Levering op:
Dixit 7: Revelations uitbreiding
Dixit: Revelations invites you to go beyond what you see at first glance and discover what lies hidden between — or hidden by — the lines. Featuring art by the French illustrator Marina Coudray, Dixit: Revelations looks utterly unlike any Dixit expansion that has preceded it. Coudray's mysterious and enchanting images are heavily influenced by early twentieth century design, from the Art Deco movement to Surrealism, even while they convey stories and ideas that may be millennia old. In her art you'll find echoes of Picasso, Magritte, Matisse, Escher, Greek myth, Indian religion, pop music, internet memes, and much, much more... In these stylized pieces, reminiscent of New York City's architecture and glass Tiffany lamps, you'll find many allusions to ancient myths and folk tales.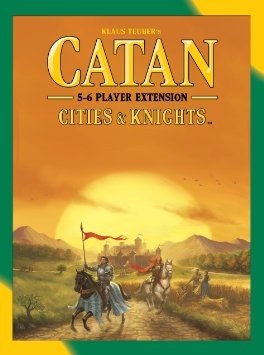 Niet meer beschikbaar
Settlers of Catan 5th Edition - Cities & Knights 5-6 Player Extension
Now up to 6 players can develop their cultures, build metropolises, and muster their knights against the scourge threatening Catan! Expand and inject even more excitement into your Cities & Knights® games without sacrificing ease of play. Add more friends and family and even more drama to the award-winning game of culture, politics, trade, and conflict.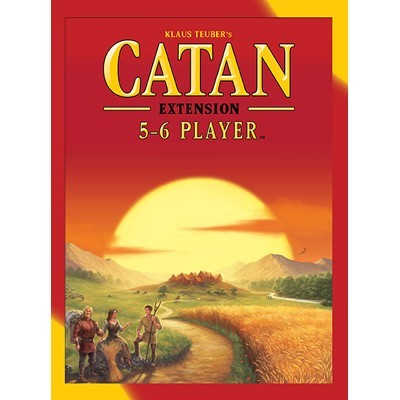 Niet meer beschikbaar
Settlers of Catan 5th Edition - 5-6 Player Expansion
You need a Catan® game (aka The Settlers of Catan®) in order to play with this extension.Now five to six players can explore and settle Catan!In the Catan: 5-6 Player Extension™ you control a group of settlers exploring and taming the uncharted lands of Catan. Embark on a quest to settle the rich island, competing against more opponents for added fun. Add 1-2 more friends or family without sacrificing ease of play. Add green and brown settlers and expand your island with 2 more harbors and 11 unique, new terrain tiles. CONTAINS:• 11 new, unique terrain tiles• 2 frame pieces with harbors• 2 all-sea frame pieces• 10 wooden settlements• 8 wooden cities• 30 wooden roads• 25 full-color resource cards• 9 full-color development cards• 28 die-cut number tokens• 5-6 player extension rules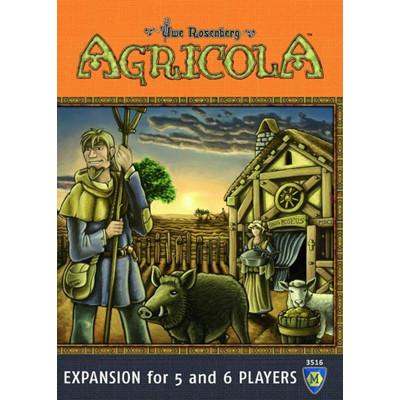 Niet meer beschikbaar
Agricola 5-6 Player Expansion
The Agricola: 5/6-Player Expansion continues components that allow more players to participate in the revised edition of Agricola.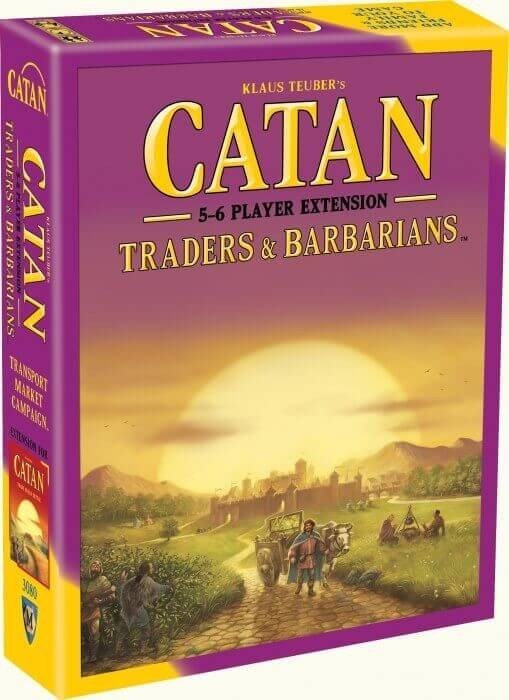 Niet meer beschikbaar
Settlers of Catan 5th Edition - Traders & Barbarians 5-6 Player Extension
Now up to 6 players can share the very rich set of 4 variants and 5 scenarios in Catan: Traders & Barbarians! Infuse even more fun and excitement into your Catan® games without sacrificing ease of play. Add 1-2 more friends and family for more interaction and more drama!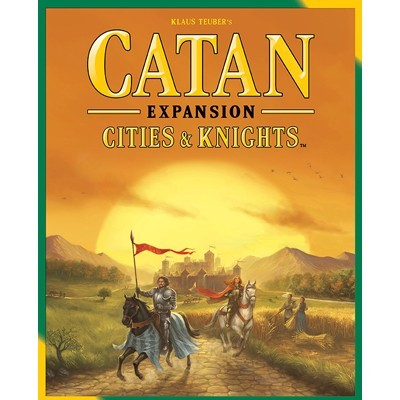 Levering op:
Settlers of Catan 5th Edition - Cities & Knights Expansion
Dark clouds gather over the once peaceful landscape. Wild barbarians, lured by Catan's wealth and power, maneuver to attack. Their massive warships loom against the bright orange horizon. You must be strong! Barbarians attack the weakest targets, and the victim of their onslaught will be the player who contributes the least to the defense of Catan.Don't take any chances! Field your knights!In Catan: Cities & Knights® you engage in the defense of Catan and compete to build the three great metropolises of Catan. Each of these magnificent urban centers is even more valuable than a city. They're also immune to the dangerous barbarians. Invest in city improvements, which you acquire using three commodities of trade: coin, paper, and cloth. If you improve your culture, muster your knights, and enrich your fine cities, you will be the master of the great realm of Catan!Components36 Commodity Cards54 Progress Cards6 Victory Point Cards3 Wooden Metropolis Pieces1 Wooden Merchant Figure1 Custom Event Die1 Wooden Barbarian Ship24 Wooden Knights12 City Walls4 Development Flip-Charts1 Sea Frame Piece1 Rulebook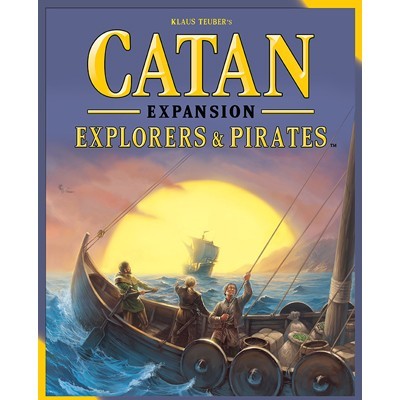 Levering op:
Settlers of Catan 5th Edition - Explorers & Pirates Expansion
Catan: Explorers & Pirates;90 minutes. ® includes 5 novel scenarios, each of which builds upon your previous experience. All are easy to learn, rich in character, and lots of fun. In each, you explore an unknown sea by ship and build settlements on the discovered islands.Scenario 1 ("Land Ho!") introduces you to valuable harbor settlements, shipbuilding, exploration, and overseas settlement—the most important basic rules of this expansion. Each subsequent scenario introduces a new mission and its simple new rules. The game culminates in Scenario 5 ("Explorers & Pirates"), which incorporates all of these very rich new themes in a diverse and exciting campaign of bold exploration and piracy!Explore Catan! Build harbor settlements, ships, settlers, and sailing crews and set out across mysterious seas in search of new lands, spices, fish, and gold fields.Components• 16 harbor settlements (wood)• 32 adventurers (wood)• 12 ships (wood)• 8 settlers (wood)• 12 markers (wood double cubes)• 4 pirate ships (wood)• 6 fish(wood)• 24 spice sacks (wood cubes)• 76 gold coins (die cut)• 12 frame pieces• 6 gold field hexes• 6 fish shoal hexes• 6 spice hexes• 6 terrain hexes and 6 number tokens (green backs)• 6 terrain hexes and 6 number tokens (orange backs)• 6 pirate lair tokens• 3 mission cards• 3 mission victory point cards• 4 building cost cards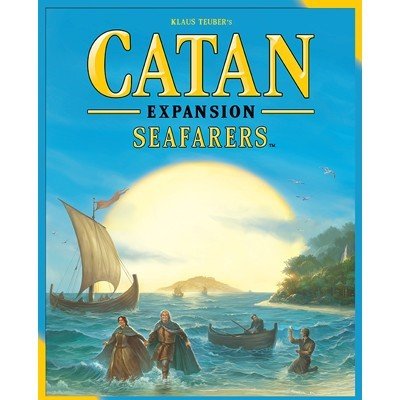 Levering op:
Settlers of Catan 5th Edition - Seafarers Expansion
5th Edition Expansieset voor het bordspel The Settlers of Catan. Met de Seafarers Expansion creëer je een nieuwe wereld van Catan. Eén met eilanden en zeerovers. Maak van hout en wol schepen en koloniseer nieuwe eilanden. Met de extra zee en landtegels is het mogelijk verzonnen scenario's of die uit het boek te spelen. Voor deze uitbreiding is het basisspel 'The Settlers of Catan' vereist.
Levering op:
The Colonists
In The Colonists, a.k.a. Die Kolonisten, each player is a mayor of a village and must develop their environment to gain room for new farmers, craftsmen, and citizens. The main goal of the game is full employment, so players must create new jobs, educate the people, and build new houses to increase their population. But resources are limited, and their storage leads to problems that players must deal with, while also not forgetting to upgrade their buildings. Players select actions by moving their mayor on a central board. The Colonists is designed in different levels and scenarios, and even includes something akin to a tutorial, with the playing time varying between 30 minutes (for beginners) and 180 minutes (experts).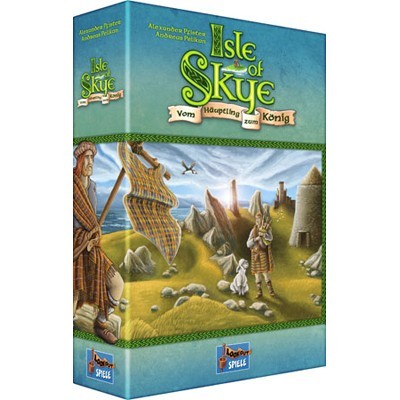 Niet meer beschikbaar
Isle of Skye: From Chieftain to King
Isle of Skye is one of the most beautiful places in the world with soft sand beaches, gently sloping hills, and impressive mountains. The landscape of Isle of Skye is breathtaking and fascinates everyone. In the tile-laying game Isle of Skye: From Chieftain to King, 2-5 players are chieftains of famous clans and want to build their little kingdoms to score as many points as possible — but in each game only four of the sixteen scoring cards will be scored. Thanks to the scoring cards, each game is different and leads to different tactics and strategies, but having enough money is useful no matter what else is going on. Managing that money can be tricky, though. Each turn, each player places two area tiles in front of them and sets the selling price for the tiles. Setting a high price is great, but only so long as someone actually pays the price because if no one opts to buy, then the seller must buy the tiles at the price they previously requested. In the end, the player with the best kingdom — and not the richest player — becomes the sovereign of the island.