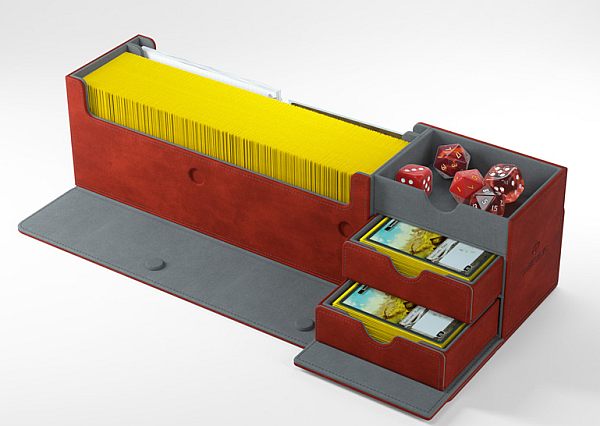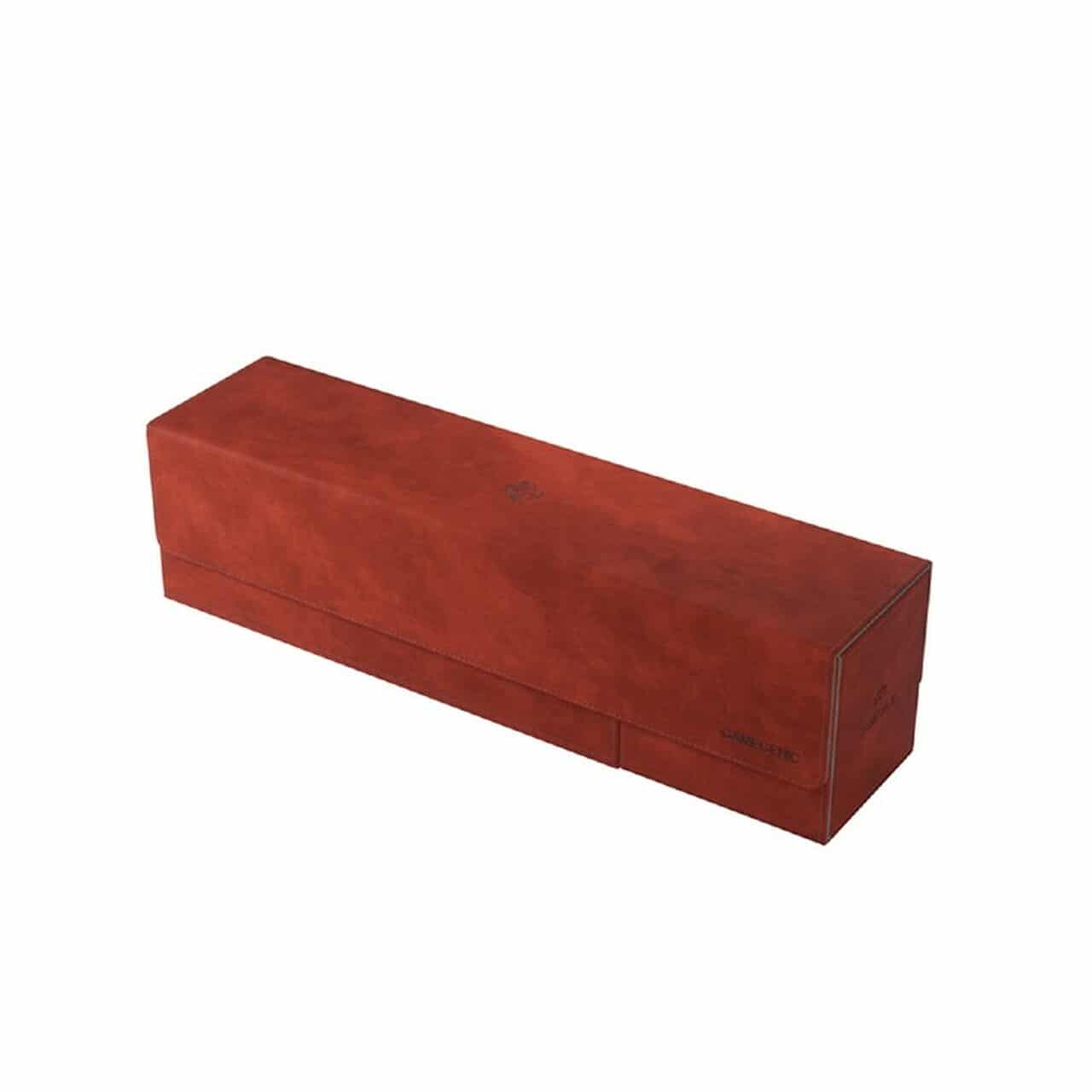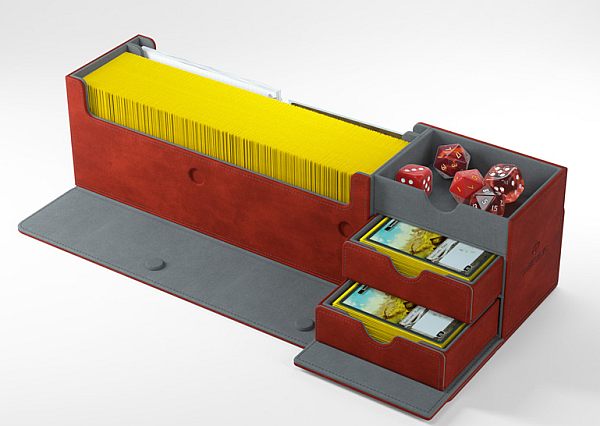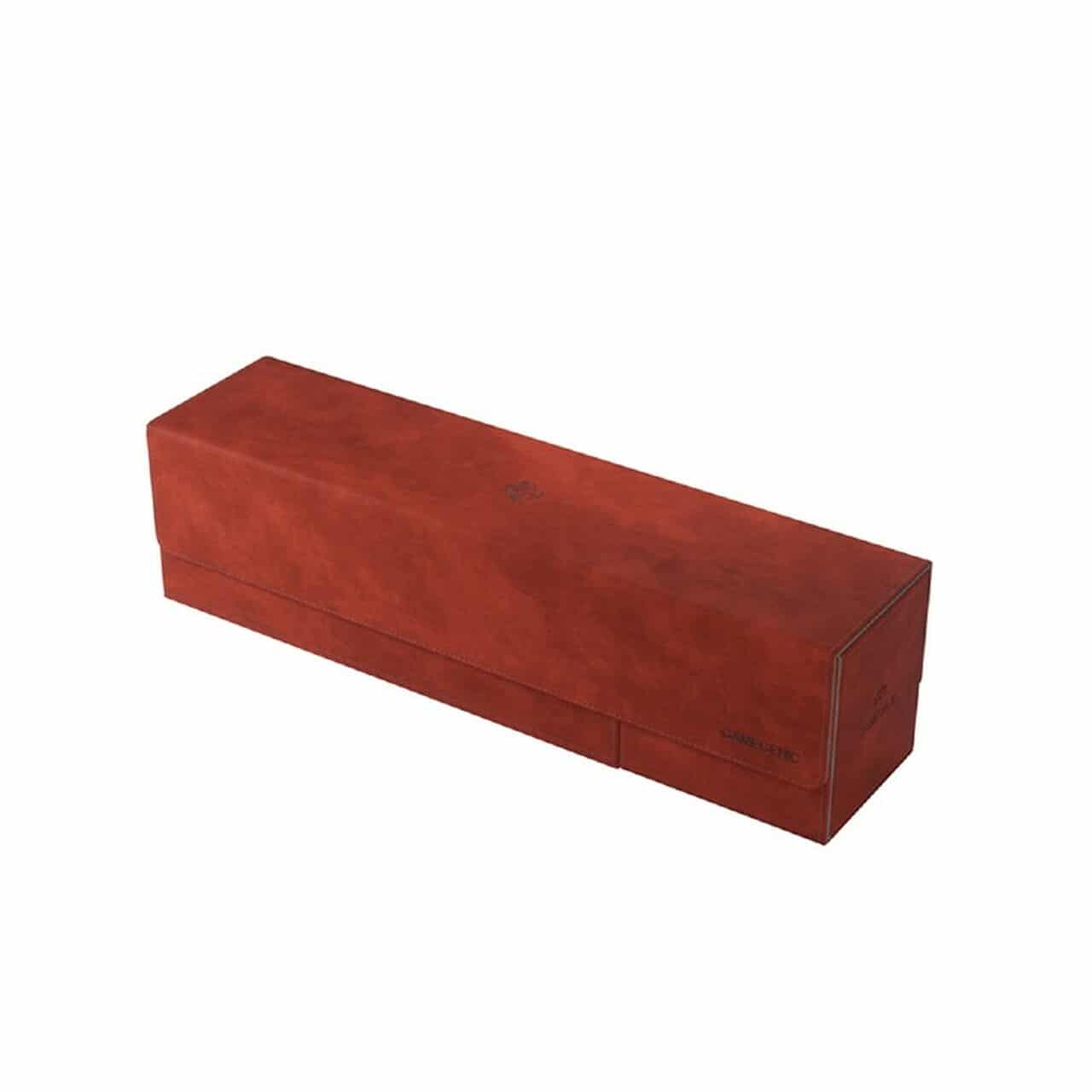 DeckBox: Card's Lair 400+ Red
Op werkdagen voor 16:00 besteld is morgen in huis.
Productinformatie "DeckBox: Card's Lair 400+ Red"
CARDS' LAIR 400+ CONVERTIBLE Tolarian Badge Cards' Lair FEATURES Premium multifunctional card box with perfect width for standard-sized sleeved cards. No loose standard cards! Designed to hold up to 400 double-sleeved or 540 board-game-sleeved cards* Perfect for tournament players, a gaming night with a lot of cards or for games like Pokémon™, Marvel Champions, Arkham Horror LCG™, KeyForge®, or Terraforming Mars™** Ideal for the Magic: The Gathering™ format Cube Draft** 2 extra slots: one for sleeved oversized cards (such as Magic: The Gathering™ Commander and more) and one for life pads / writing pads 2 removable drawers for token, dice, sleeved cards or full decks Drawers can hold 40 additional double-sleeved cards each (or 50 with board-game sleeves* each) Revolutionary magnetic flaps guarantee effortless pulling-out of the drawers Notched drawer compartments for easy access; right down to the last card Top-level compartment for additional accessories, played cards, or usable as a mini dice tray SPECIFICATIONS Product size (W x D x H) 409 x 105 x 111 mm Material Nexofyber surface + microfiber inner lining EXCLUSIVE LINE Material Nexofyber+ surface + microfiber inner lining Packaging type Window cardboard box MSRP USD 49.99 WHERE TO BUY? * Optimized for Gamegenic Sleeves. Sleeves from other brands may affect capacity/compatibility ** "Pokémon™" is a reg. trademark of Nintendo Co., Ltd. "Marvel Champions" © MARVEL. "Arkham Horror LCG™" and "KeyForge®" are reg. trademarks of Fantasy Flight Games Inc. "Terraforming Mars™" is a reg. trademark of FryxGames. "Magic: The Gathering™" is a reg. trademark of Wizards of the Coast LLC.®. All rights reserved by their respective trademark holders. The representation of compatibility does not infer challenge of intellectual property rights, nor the endorsement of our products by the represented company. COLOR VARIATIONS  USD 49.99 EAN: 4251715410356 SKU: GGS20085ML "The next BIG thing!" This is what many customers have been waiting for: a large premium box to perfectly fit standard-sized cards in sleeves. With the additional innovative features, this is all you need for your collection on a great gaming night. This multi-functional premium box is designed to perfectly fit 400 double-sleeved, or 540 board game-sleeved cards*. Two removable drawers with ingenious magnetic flaps provide easy access to tokens, sleeved cards, or full decks. The top compartment can be used to store played cards, accessories, or as a mini dice tray. With our highly rated CONVERTIBLE system the removable cover clips onto the bottom saving precious space on your gaming table when opened. Powerful magnets together with our innovative locking mechanism provide a secure closure, even if the box is shaken upside-down.
DeckBox: Card's Lair 400+ Red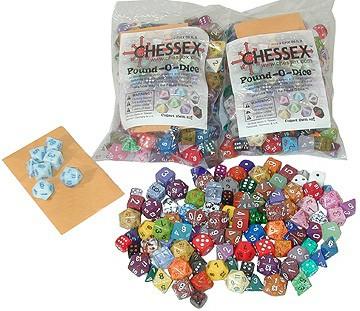 Levering op:
Pound-o-Dice - Polydice Dobbelstenen (ca. 100 stuks)
Een pond dobbelstenen (ongeveer 100 losse dobbelstenen), in diverse vormen en kleuren. Van 4- tot 20-zijdige dobbelstenen. Inhoud varieert elke keer. Bevat onder andere kleuren die verder nooit op de markt zijn gekomen. Bevat opaque varianten, gem, marble en meer.