D&D 5.0 - Laeral Silverhand's Explorer's Kit
Tijdelijk niet in voorraad
Verwachte levering op: .
Productinformatie "D&D 5.0 - Laeral Silverhand's Explorer's Kit"
Dice and miscellany for the world's greatest roleplaying game.
Let Laeral Silverhand—Open Lord of Waterdeep, centuries-old archmage, and daughter of the goddess of magic—guide you on your path to adventure.
Includes:
Eleven dice (two d20s, one d12, two d10s, one d8, four d6s, one d4).
Twenty illustrated, double-sided cards detailing Laeral's expert insights on key characters, locations, and lore from across the Forgotten Realms.
A durable, felt-lined box that functions as two dice trays.
Foldout double-sided map of the Sword Coast and the city of Waterdeep.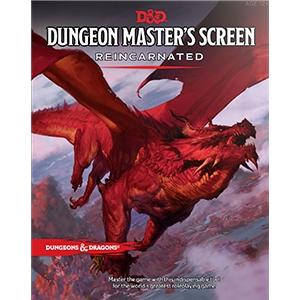 Levering op:
Dungeons & Dragons - Dungeon Master's Screen Reincarnated
Master the game with this indispensable tool for the world's greatest roleplaying game. Lost is the poor soul borne aloft in the grip of the ancient red dragon featured in a spectacular panoramic vision by Tyler Jacobson on this durable, four-panel Dungeon Master's Screen. The interior rules content on this new screen has been revisited and refreshed as a direct result of feedback received from D&D fans everywhere. The screen's landscape orientation allows the Dungeon Master to easily see beyond the screen and reach over, even as it keeps die rolls and notes hidden from players. Provides an at-a-glance reference for the most relevant and often used in-game information, equipping Dungeon Masters of all skill levels with essential support. An excellent resource for new and existing Dungeons Masters to facilitate inspired adventures and an engaging play experience.

Levering op:
D&D Dungeon of the Mad Mage - DM Screen
The perfect companion for Dungeon Masters running the Waterdeep Dungeon of the Mad Mage adventure, the front of this screen features colorful artwork from Waterdeep, while the interior provides the DM with essential maps and tables.